Dynamic Pricing
Dynamic pricing is a feature that relies on advanced algorithms and data analysis to determine the optimal price at any given moment. Automatically adjust your ticket prices based on demand, holidays, days-to-purchase, supply and customer behaviors.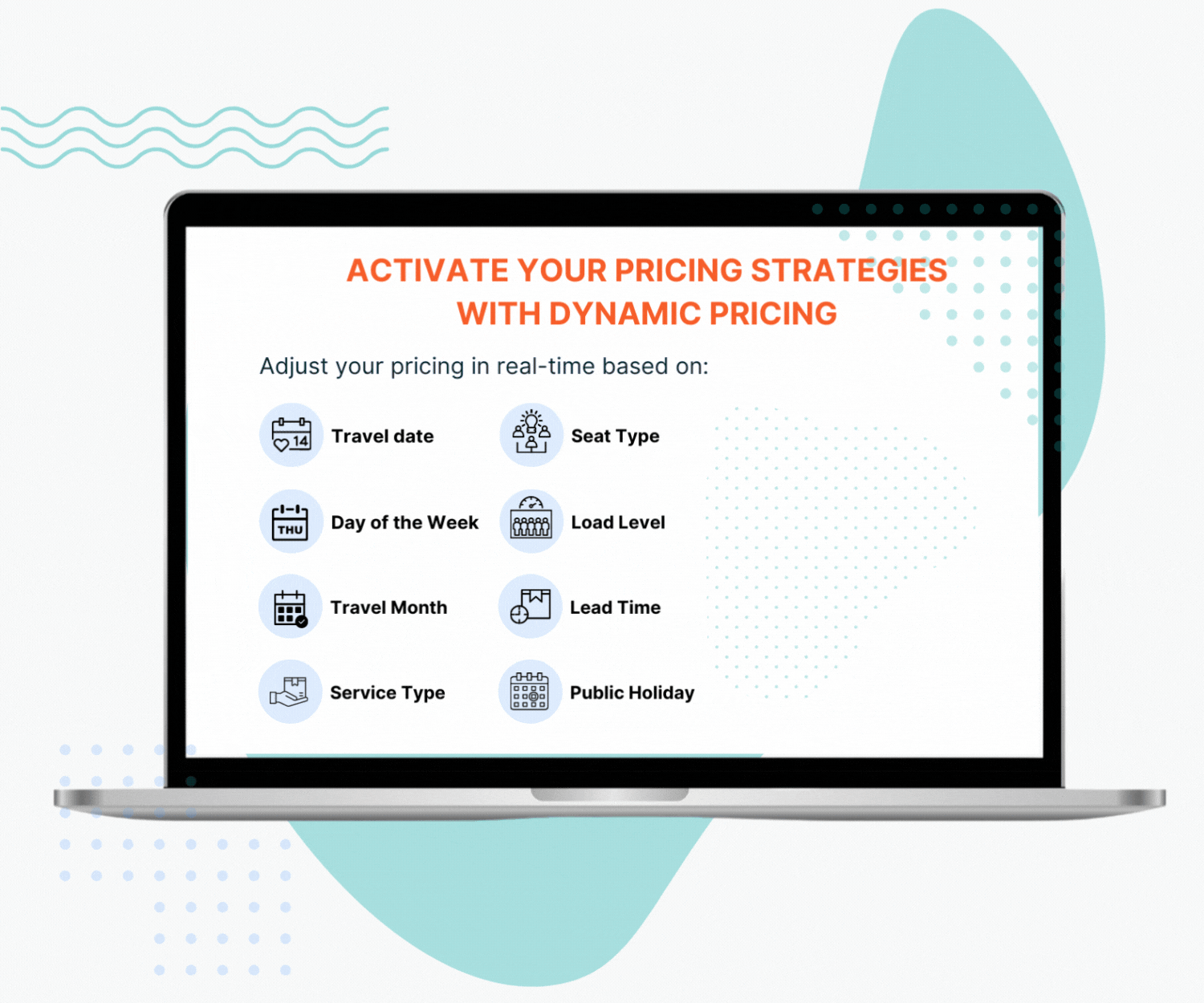 Dynamic Pricing Ruleset
Simple Configuration of Dynamic Pricing Rules: Establish dynamic pricing rules with ease. As an example, you can apply a 90 percent discount multiplier for load levels between 0-25%, adjusting pricing based on capacity. Multiple dynamic pricing rules can be created, selecting from a range of options such as travel day of the week, travel month, travel date, service type, seat type, load level, lead time, public holiday, and more. Tailor the multiplier to reflect the premium or discount you wish to offer your customers.
Surcharges and Limits
Incorporation of Surcharges and Setting of Limits: Integrate additional surcharges as needed. For instance, an extra $15 surcharge can be applied for purchases made at the airport. Price limits can be set to ensure control over pricing. If the cumulative effect of surcharges and multipliers surpasses the defined limit, the system will enforce the maximum limit price. Time-based constraints can also be assigned to these rules.
User-Friendly and Customizable
User-Friendly and Highly Customizable: The system is designed for user-friendliness and adaptability. Rulesets can be duplicated effortlessly, enabling you to replicate existing rules and make desired adjustments promptly.

Dynamic Pricing
Dynamic Pricing feature helps modify your ticket costs according to real-time supply and demand information. You can utilize Zaui's Dynamic Pricing to create intelligent pricing approaches for your tour or activity enterprise. Categorize based on type, day of the week, timing, and various other factors.
Launched on August 28th 2023
Pricing
FREE TO INSTALL
Free for All Customers
Available for all customers on non-legacy pricing plans.
Apps similar to Dynamic Pricing

By Zaui
Zaui's Channel Manager solution provides controls to all of your distribution channels from a single location. Whether it's allocations, pricing or inventory the Channel Manager allows control for a single reseller a select few.

By Zaui
Create custom reports with the Zaui Report Builder and explore a world of data from your Zaui system. Automated report scheduling and exporting.

By Zaui
Streamline your walk-ins and how your staff transact and interact with your customers when they arrive with our dedicated POS solution for attractions, tours, and transportation.